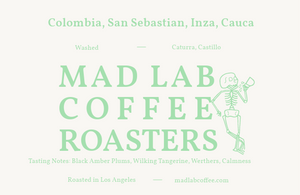 Variety Caturra/Castillo
Process Washed
Altitude 2000 m
Harvest 2023
Tasting Notes Black Amber Plums, Wilking Tangerines, Werther's candy, Transcendent Libation
When we first tasted this coffee on our cupping table, not only were we surprised, we were impressed. Such a simple washed coffee, yet filled with so much character and nuance. The finish of this coffee is what we'd recommend to be on the lookout for. There's a type of rich stone fruit mint leaf freshness that catches you off guard at the end of these sips, and makes for a thought provoking experience. We're really enjoying this coffee on espresso at a finer than normal grind at a larger ratio. Shoot for a 1:3 or 1:3.5 ratio for this coffee and it will not disappoint! 
This coffee is produced by small holder growers in Inza municipality, which is part of the Tierra dentro region located on the western side of Cauca. This region is 80% inhabited by the indigenous tribe called Paeces. The average size of the farm is 0.5 to 1.5 hectares.
We collaborate with our friends from Occicafe and Globalcafe. Through them we can have a direct relationship with the farmers and have better control on the quality. Farmers own small parcels of land where they grow coffee at 2000m and the crops are mainly Castillo and Caturra.