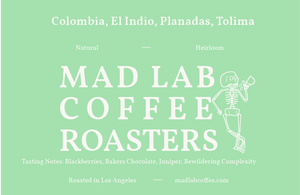 Variety Heirloom

Altitude 2150 meters
Process Natural
Harvest 2023
Annual Rainfall 1700-2000 mm

Tasting Notes Blackberries, Bakers Chocolate, Juniper, Bewildering Complexity
If you've been a part of our culture here at Mad Lab Coffee for awhile, you know we love a: complex, solid, refined, flavor hidden, funk driven, lip smacking, toe tapping, ROR crashing natural processed coffees. This is indeed one of those coffee's. Its juuuuuust the right amount of funk, but very clean, crispy, and complex at the finish. Normally every season we try to limit ourselves to only one natural processed coffee, but we said "no thank you" this year, then proceeded to bring in this coffee as well. Because lets face it, the economy is probably going to crash, it'll be 2008 all over again, and we want to be drinking this affordable luxury when the ship goes down. But yeah this is a solid coffee and we like it a whole bunch.
Produced by associations like Asopep and Ascisp, the Tolima region is currently one of the most productive coffee-growing regions in Colombia, with many notable representations in the Cup of Excellence and other coffee grading competitions. This coffee was carefully hand-picked in order to use only the
ripest cherries, later hand-sorted to remove any defects. Coffee
is sundried on raised beds under temperature-controlled
conditions until the ideal moisture content is achieved.